"In between Rue de Grenelle and Rue Saint Dominique, Restaurant Pertinence opened it door at the end of March.
Ryunosuke NAITO and Kwen LIEW offer their first intimate and elegant table. The French cuisine is adorned with Japanese technique to draw all its quintessence.
In the shelter of the Fontaine de Mars, Pertinence is a hidden place where only 14 guests can be served."
They met each other when Restaurant Antoine was created in 2011 (with Chef Mickaël Féval) and after great experiences, Ryu and Kwen decided to start their food journey in an intimate and discreet place, with their own style.
Ryu learned in prestigious establishments begining in Taillevent (3 stars) with Alain Soliverès but also under the orders of Yannick Alléno at Cheval blanc, Restaurant 1947 in Courchevel and Meurice (3 Michelin stars), as a sous chef . He remained at his position after the direction passed to Alain Ducasse.
Meanwhile, Kwen had a french culinary course and  pastry course in France and formed in different countries.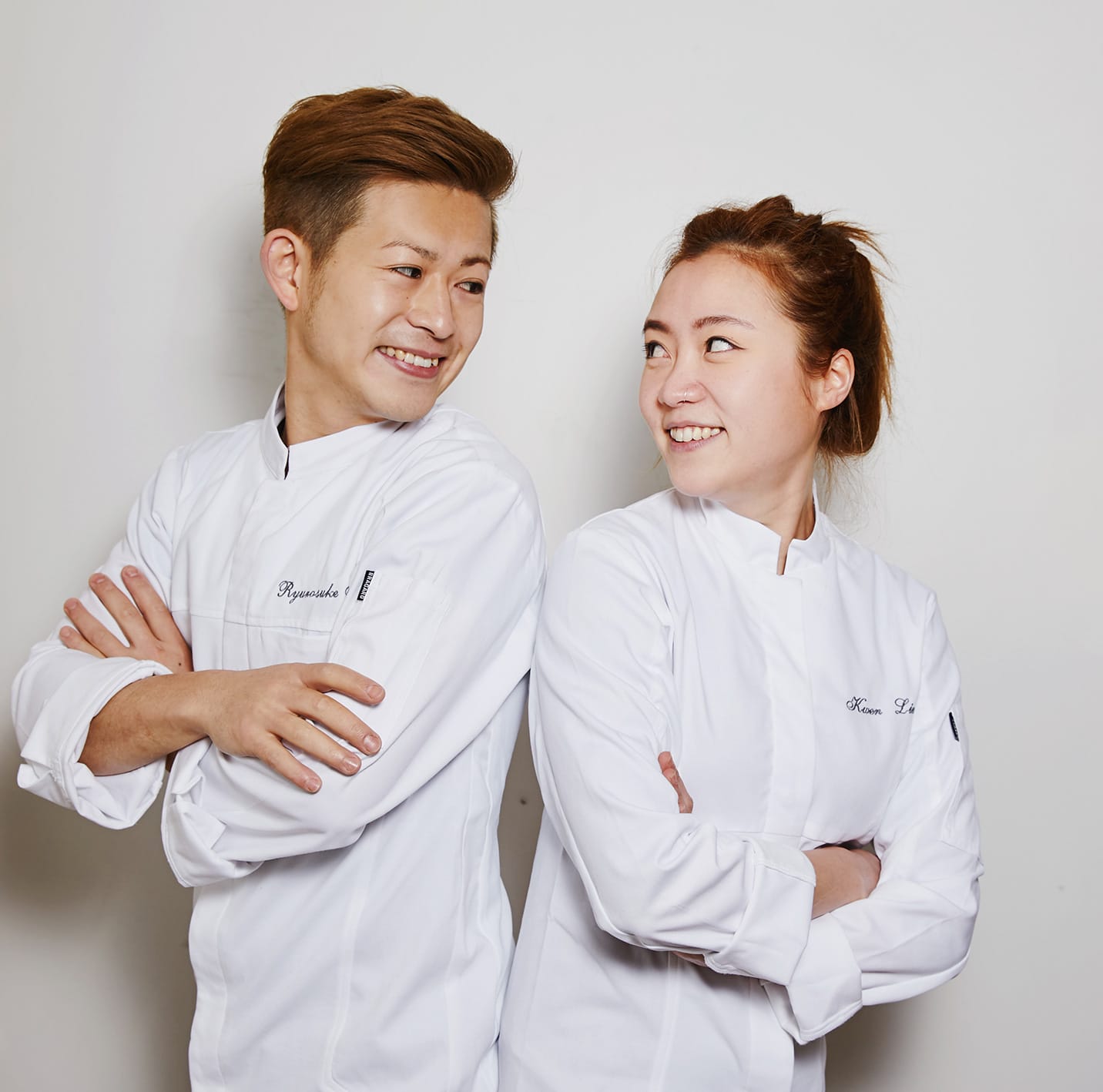 Discover our dishes
A la carte
Starters
Roasted langoustines , mousse of parmentier 
Celery, carrots
45 €
Seasonal white asparagus
Caviar Baeri , eggs , creme friche
55 €
Razor clam with spring vegetables 
Ginger scented broth
39 €
Foie gras confit   
Citrus condiments, Mint's jelly
39 €
Main courses
Roasted turbot 
Spelt with squid ink, yellow wine emulsion
58 €
Saint-Gilles-Croix-Vie lin caught sea bass
White asparagus and mushroom, Serrano ham
59 €
Dome duckling duo
Crispy risotto , bigarade sauce
49 €
Pan roasted Veal 
Pasta with green asparagus, violet  mustard sauce
56 €
Pyrenees lamb 
Agria potato, garlic flower stems
57 €
Desserts
Roquefort mousse and cheese of the day 
Caramel salted prune
15 €
Gourmandise exotic fruits 
Pina colada ice cream
14 €
Declination of citrus 
Blood orange sorbet
14 €
Chocolat Inaya warm and cold 
Caramel mousse ,chocolate ice cream
14 €
(Excluding public holidays)
Season lunch menu - From Tuesday to Friday
Season menu with 3 services- 38 €
Starting from June ,the price will be modify.
(Drinks are not included)
Pertinence tasting menu in 6-course
(Served for the whole table)
Chief selection with the products of the day – 85 €
Starting from June ,the price will be modify.
Pertinence tasting menu in 6-course with food and wine pairing
(Served for the whole table)
Wine waiter selection in agreement with chief selection – 135 €
Starting from June ,the price will be modify.
Opening hours
Open from Tuesday to Saturday
Closed on Sunday and Monday
Exceptional closure: 22 Jan 2018 til 30 Jan 2018
Address
29 rue de l'Exposition
75007 Paris