"In between Rue de Grenelle and Rue Saint Dominique, Restaurant Pertinence opened it door at the end of March.
Ryunosuke NAITO and Kwen LIEW offer their first intimate and elegant table. The French cuisine is adorned with Japanese technique to draw all its quintessence.
In the shelter of the Fontaine de Mars, Pertinence is a hidden place where only 18 guests can be served."
They met each other when Restaurant Antoine was created in 2011 (with Chef Mickaël Féval) and after great experiences, Ryu and Kwen decided to start their food journey in an intimate and discreet place, with their own style, where french cuisine combines with japanese elegance.
Ryu learned in prestigious establishments begining in Taillevent (3 stars) with Alain Soliverès but also under the orders of Yannick Alléno at Cheval blanc, Restaurant 1947 in Courchevel and Meurice (3 Michelin stars), as a sous chef . He remained at his position after the direction passed to Alain Ducasse. In 2014, Ryu had an opportunity to join association and being the head chef of Bistrot Alexandre III.
Meanwhile, Kwen had a pastry course in France and formed in different countries.
She joined Ryu at Bistrot Alexandre III with the position of sous chef.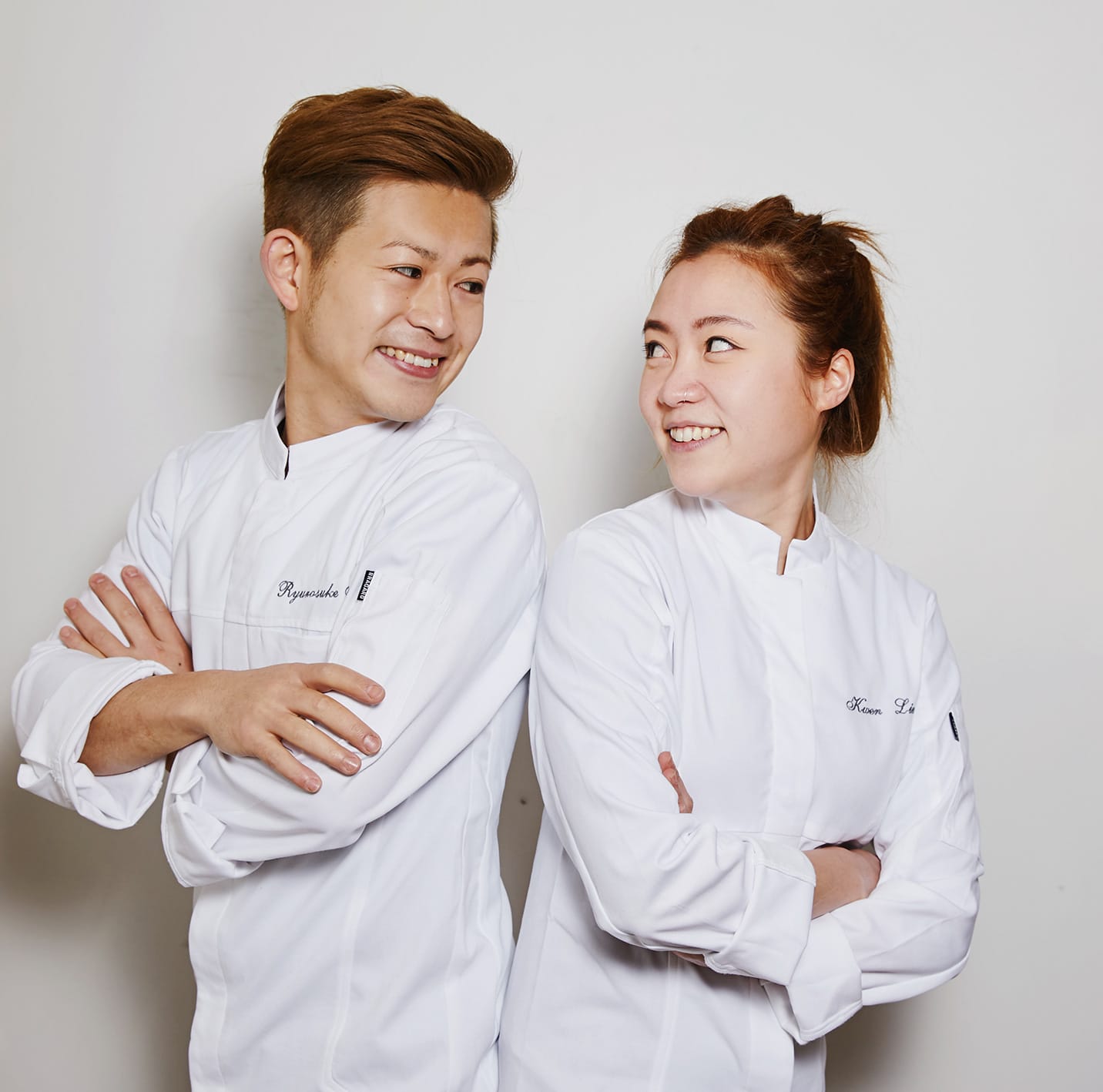 Discover our dishes
A la carte
Starters
Roasted langoustines , shiitake mushroom broth
Daikon radish , black truffle
45 €
Baeri caviar , dried bonite royale 
Sarrano ham, Thai cebette
54 €
Crispy risotto with black truffle 
Base temperature cooked egg , parmesan cream
34 €
Pan seared foie gras  
Dragon fruits , porto sauce
35 €
Main courses
Sole filet Dieppe style 
Mini leeks and caramelized onion
49 €
Pan seared scallop 
Crunchy vegetables , lobster bisque , black truffle
46 €
Iberian pluma
Garlic flower , herbs broth with coriander
42 €
Racan chicken in fricassee 
Agria potato, black truffle
48 €
Veal sweetbread pie with foie gras 
Veal jus
52 €
Desserts
Roquefort mousse and cheese of the day 
Caramel salted prune
12 €
Peer soup
Honey crunch apple , green apple sorbet
12 €
Shortbread with lemon meringue 
Blood orange sorbet
12 €
Chocolat Inaya with black truffle 
Caramel mousse ,chocolate ice cream
18 €
(Excluding public holidays)
Season lunch menu - From Tuesday to Friday
Season menu with 3 services- 38 €
(Drinks are not included)
Pertinence tasting menu in 6-course
(Served for the whole table)
Chief selection with the products of the day – 85 €
Pertinence tasting menu in 6-course with food and wine pairing
(Served for the whole table)
Wine waiter selection in agreement with chief selection – 135 €
Opening hours
Open from Tuesday to Saturday
Closed on Sunday and Monday
Exceptional closure: 22 Jan 2018 til 30 Jan 2018
Address
29 rue de l'Exposition
75007 Paris